Chateau Brewery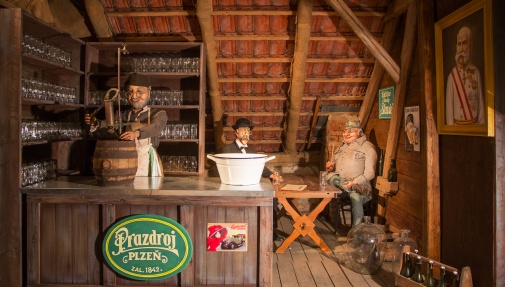 The château brewery has an eventful history. The original Brewery House was partly converted to the now popular Medieval Tavern while other historic parts became our Beer Museum.
The Dětenice Brewery offers a variety of authentic period features consisting of the malt house, barrel making room, brewing house, laboratories, hop garden, lager cellars, fermentation room, ice house and, last but not least, you can even discover the secrets of the historic cellars! One of the most prized parts of our brewery tour is the demonstration of 18th century "beer of love" brewing, which strictly follows the original recipe and ingredients.
---
Come and taste for yourself how the craft of beer making has evolved since the old times!
Taste the beer drunk by our ancestors!
---
The brewery tour and Dětenice beer brewing demonstration
January, February, March
 Saturday, Sunday: 10 - 18 every even hour
 April
 Saturday: 11 - 18 
 Sunday: 11 - 18 
 May, June
 Tuesday-Friday: 11 - 18
 Saturday, Sunday: 11 - 18
July, August
 Daily 11-18:00
October
  Saturday, Sunday: 11 - 18 
 September
 Tuesday - Friday: 10 - 18 (every even hour)
 Saturday, Sunday: 11 - 18 
The brewery tour and beer brewing demonstration takes approx. 45 minutes
PRICE LIST
 
 BREWERY
 CHATEAU + BREWERY (Advantageous entrance fee)
 Adults
 CZK 100 
 CZK 200 
 Children up to 6 yo
 FREE
 FREE
 Children 6 - 11 yo
 CZK 40 
 CZK 90 
 Youth 12 - 18 yo
 CZK 60 
 CZK115 
 Senior citizens
 CZK 60 
CZK 115 
 Tours in English, German
 CZK 150 
CZK 320 
 Entrance to the park
  CZK 60
Price per one person
Tour in a foreign language English and German up to 10 people extra charge 700 CZK

Najdete nás na Facebooku

Portál Kudy z nudy  |  Copyright © 2011 Dětenice  |  WebDesign and SEO by: ADENT CZ s.r.o.